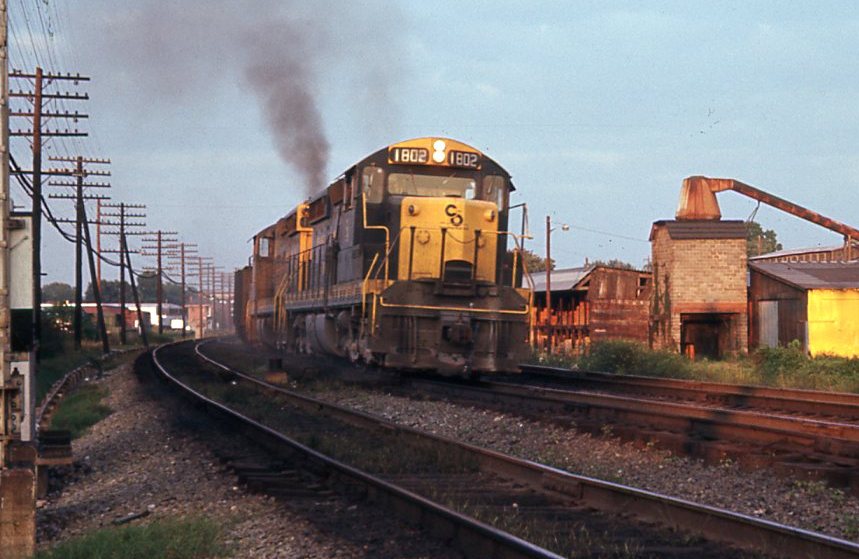 SD18 #1802 and sister unit pulling Westbound coal drag on #2 main track just beyond the west end of Huntington Yard at 2nd St West. It was from this point that three mains ran to Kenova a distance of approximately 7.5 miles. HO Cabin is in the background to left of the train. 
For this post I thought I would make it picture album of various photos of the C&O around the Huntington area. I hope you enjoy it.
GP7 #5704 switching South Yard near 16th Street (now Hal Greer Blvd) in March, 1970. This unit was originally ordered by the Pere Marquette in 1947 but was delivered to the C&O as result of the merger with the PM in the same year. This unit is now in operation on the Lebanon, Mason and Monroe RR in excursion service as #55. For more history on this locomotive you can visit their site at lebanonrr.com/history.html.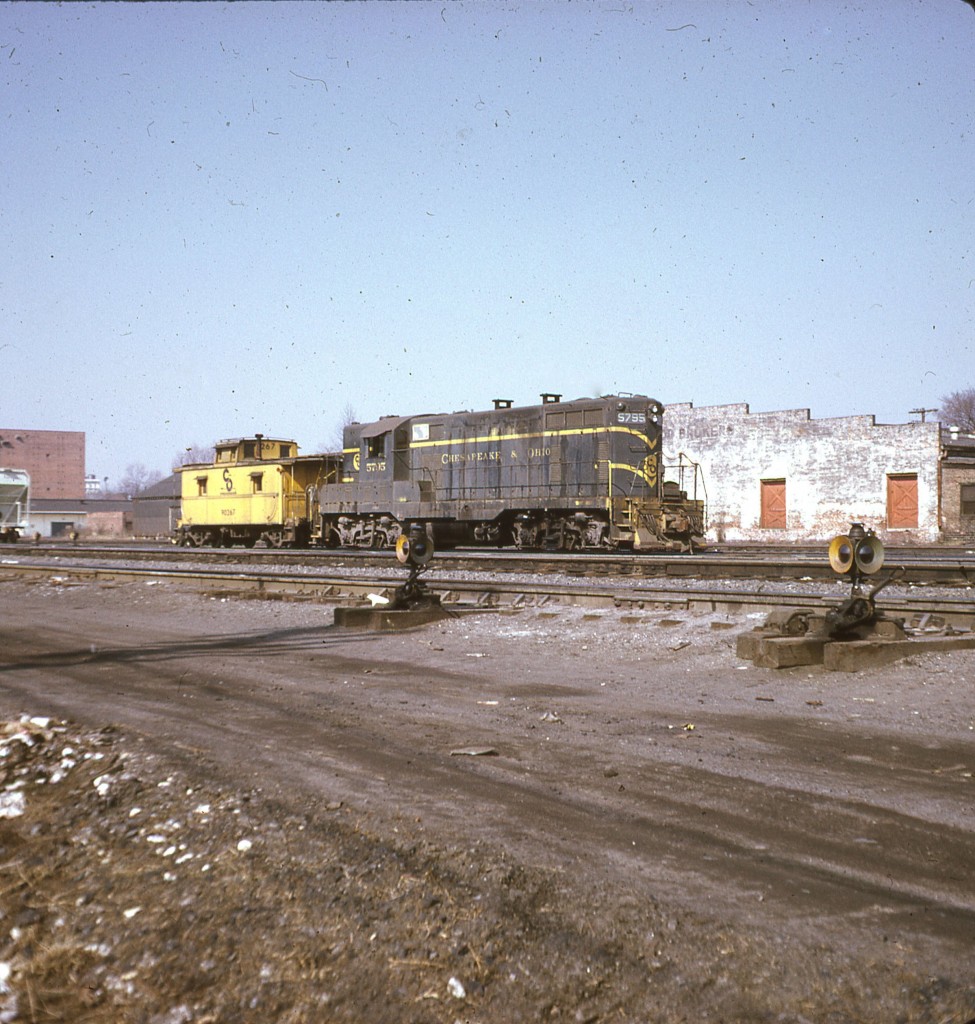 GP7 #5795 with caboose 90267 at 16th Street Yard. The paint scheme on this unit is similar to that used on #5704 when it was delivered. Note the lamps for the switch stands. They light up at night so that crews could tell which way the switches were lined.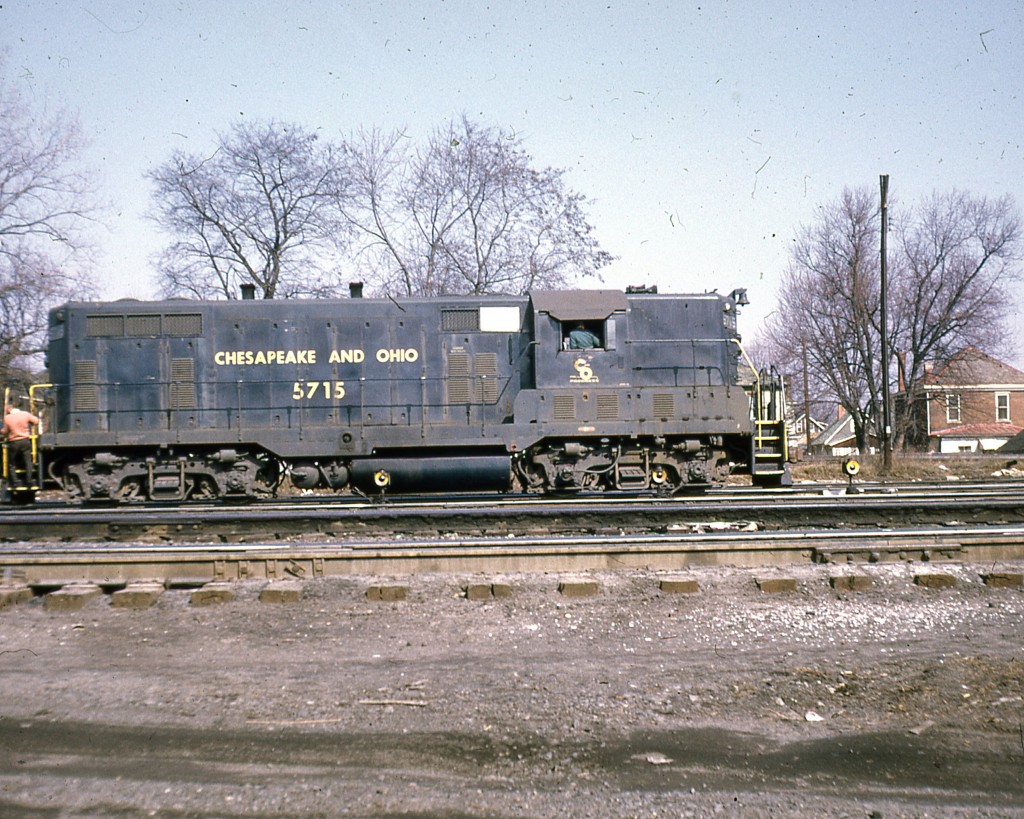 GP7 #5715 at 16th Street Yard in the Futura paint scheme.
Eastbound freight headed by SD units passing by the outdoor museum operated by the Collis P. Huntington Railroad Historical Society at 14th Street West at the end of Memorial Park.
On the left, E8 #4026 in its original tri-color paint scheme at the Huntington Diesel Shop. On the right is freshly painted #4005 in the simplified C&O paint scheme. 
Left: E8 #4014 in the simplified big C&O scheme. Right: Front view of #4014. At the left side of the photo is DK Cabin.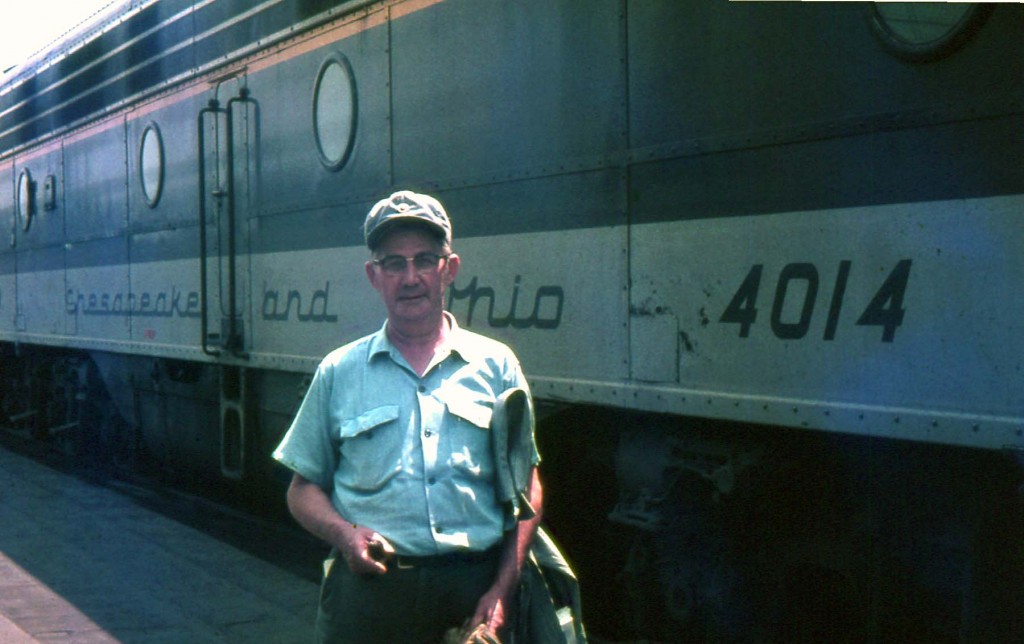 Picture of engineer for Train #3 Mr. H. F. Bogenschutz standing beside E8 #4014 on an August day in 1966. Bogey, as he was known by fellow trainmen, befriended me during the years he ran trains #3 and #4 between Cincinnati and Huntington. On days I went to see #3 I would always try to be there on the days he worked. Mr. Bogenschutz always invited me into the cab. I will never forget his kindness.  
On a cold snowy February 1968, Train #3 has clear signal to depart Huntington westbound. This view is from the engineer's side. The snow makes the tracks stand out.