The cover photo on Southern's employee magazine shows a train crossing the rebuilt Tye River bridge three weeks after Hurricane Camille blew though the area causing widespread damage beyond comprehension.
In the early morning hours of August 20, 1969, a storm of catastrophic proportions moved into Nelson County, VA including the community of Tye River. The remnants of Hurricane Camille which had entered the US at the Louisiana coast had worked its way north and east to this community located approximately 40 miles south of Charlottesville.
The crew of a Southern local had reported heavy rain to the dispatcher of the Eastern Division, at that time, as it was traveling south from Charlottesville. The track supervisor for the area, Elmer Hodge, was alerted. He began working north from Lynchburg about 20 miles south of Tye River. All trains fortunately were stopped between Charlottesville and Lynchburg.
It was a night of terror for residents of the area. Over 27 inches of rain had fallen in a three hour period. As the night turned to day, damage from Camille had become apparent. Over 200 people lost their lives and thousands more lost their homes and property was destroyed or lost. Even Mr. Hodge was thought to be among the missing during the night as he was not heard from for over 30 hours. Highways were blocked everywhere in Nelson County and communications were knocked out. It was learned later that Mr. Hodge was trapped between two landslides while driving to reach his territory to asses damage from the storm.
When all was over, there were nine major washouts ranging from 100 to more than 500 feet in length. One exception was a 30 foot washout. They were on fills from 20 to 50 feet high. Drainage structures at these locations had been mostly washed away. In addition there were 56 locations where landslides occurred in cuts that required clearing, where sides of fills had been partially washed away or locations where ballast had been washed away from the ends of ties over long stretches of track.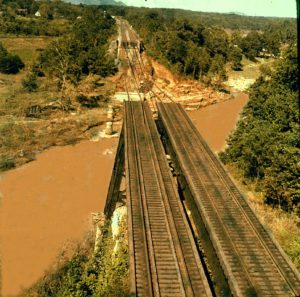 Left photo is looking northbound. Tye River flows from left to right. Right photo shows welded rail strands over the river.
While numerous washouts occurred in the area, the biggest loss was that of the double track Tye River bridge. Aerial views showed that 480 feet of the 630 ft long bridge was completely washed into the stream bed. Some of the spans were found near where the bridge had been but others were carried by the force of the water to a low level highway crossing of Tye River about a third of a mile away. The bridge was 95 feet high from top of tie to the lowest point in the stream bed. It was determined that several of the 60 ft deck girder spans could be reused but many others were damaged beyond repair.
After being notified that most of the Tye River bridge was washed away, Joel W. DeValle, Chief Engineer of Bridges began making his way from the Atlanta bridge office to the site. Also senior engineers from the office headed to the flooded area. Some who were on vacation were called in to help. Accompanied by a bridge contractor, Mr. DeValle and the contractor were able to get to the site after talking their way through police roadblocks and asking local citizens about road conditions.
Time was critical for getting rail service restored. Southern had arranged with neighboring railroads to reroute freight and passenger trains. Some trains could be rerouted on other branches of Southern as well. Much coordination was required to keep delays to a minimum but they were inevitable.
After surveying the situation, Southern's bridge engineers developed a plan on site to rebuild the bridge. Engineers determined that three 60 ft girder spans from the washed out bridge could be used. That left 300 ft to be spanned. It was known that 100 ft girder spans were available at Tugaloo River north of Toccoa, GA. The bridge originally carried two tracks with separate girders for each track. Many years ago when Centralized Traffic Control was in place, one of the tracks was deemed unnecessary so the rail and ties were removed from the one track.
There was disappointing news however when it became known that new the bridge supports could not be built in the same manner as the former bridge as fabricated steel could not be obtained in an acceptable time. Because of this, engineers decided to build a substructure of steel pilings encased by poured in place concrete foundations on bedrock which the piles were founded on. This type of construction worked well for steel trestles constructed at lower heights that were built to replace timber trestles in an ongoing program as well as for use in emergency situations to replace bridges damaged by fire or accidents. Because of this, Southern had acquired an emergency stock of steel piling that was delivered to a storage yard in Chattanooga, TN. Engineers were confident that this type of construction would work for the new bridge.
Therefore a contractor was hired and its subcontractors were employed to begin the work of building a new bridge. Steel pilings were loaded on freight cars in Chattanooga and were sent toward the site. In the meantime contractors were calling in workers from scattered locations throughout the South and Middle West. These included welders, carpenters, and workmen of many skills from the Lynchburg-Roanoke area.
Huge cranes were required for the job. One crane located in West Virginia was dismantled and moved to the site. Another crane in Ohio that was on its way to another project, was diverted to Tye River. Smaller cranes along with bulldozers and other equipment were pulled off other jobs. Dozens of welding machines were needed to weld pile sections together as well as for other applications.
While this was going on, track crews worked tirelessly around the clock to restore the roadbed in a manner that was quicker than expected. During this time more than a half-million tons of rock and earth were moved. More than 600 carloads of ballast were used. Several thousand feet of prefabricated track panels were shipped from Southern's Fab Plant in Atlanta.
This was especially good news for the bridge engineers. With the track restored close to the construction site, the three 100 ft deck girders could be shipped by rail to the bridge. Earlier, highway routes were studied, however, many obstacles too numerous to mention would have delayed shipment even further.
On Saturday August 30, 1969, the first tower bent was erected on top of the northern most pier footing as it remained firmly in place despite the force of the flood waters. This was the shortest bent in height constructed. Work progressed to build the remaining tower bents. Bridge ties and rail were attached to the spans after they were lifted into place.
Although the bridge that was destroyed was a double track structure, the new bridge was rebuilt to carry just one track as it does to this day. Because of this, alterations to the signaling system had to be made. This included erecting new signal bridges and relocating others. Care was taken to check out the new installations to make sure trains would roll safely for the new track arrangement.  Similarly communication facilities had to be checked out and readjusted in some instances.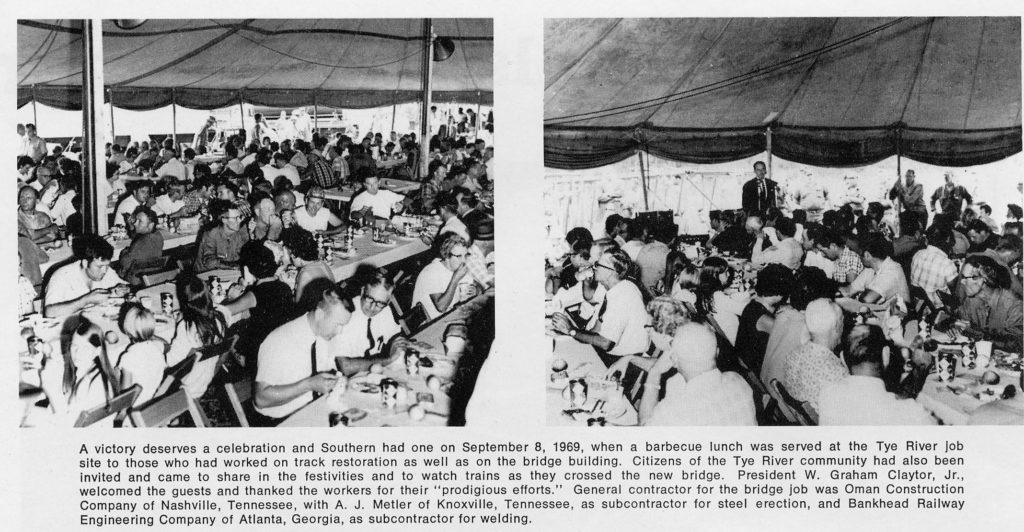 At 4:26 am on the morning of September 8, the first train crossed the new bridge. The Southern mainline was out of service for a total of 19 days. The new Tye River bridge was completed in 10 days. That was quite an accomplishment considering that communications back then were not what they are today.
Author's Note: Track Supervisor Elmer Hodge was found to be ok. He had been trapped by high water and landslides. He had a radio and heard conversations on it, but was not able to transmit to the dispatcher his location and what situations he was running into. Unable to get to locations that he needed to check, even on foot, Mr. Hodge got in his truck and took time to transport people who were in need. After about 30 hours Mr. Hodge was able to get to a phone to call the dispatcher. The dispatcher in turn called Mr. Hodge's wife to let her know that he was ok.
Most of the color photos in this piece were scanned images of aged 35mm slides which were part of a presentation used back in the later part of the 1970s when Southern conducted meetings for non-union Maintenance of Way & Structures employees at their facility in South Carolina. I somehow came into possession of these slides many years later. The black and white photos are from Ties Magazine.
I was fortunate to have started with Southern Railway in September, 1973 as a management trainee in the MW&S Department at Valdosta, GA. A year later I transferred to the Bridge Office in Atlanta. Joel DeValle was Chief Engineer of Bridges then. I remember a few of the engineers sharing their experiences at Tye River. It was something that I know would stay with them for the rest of their lives. I salute each and every one of them.