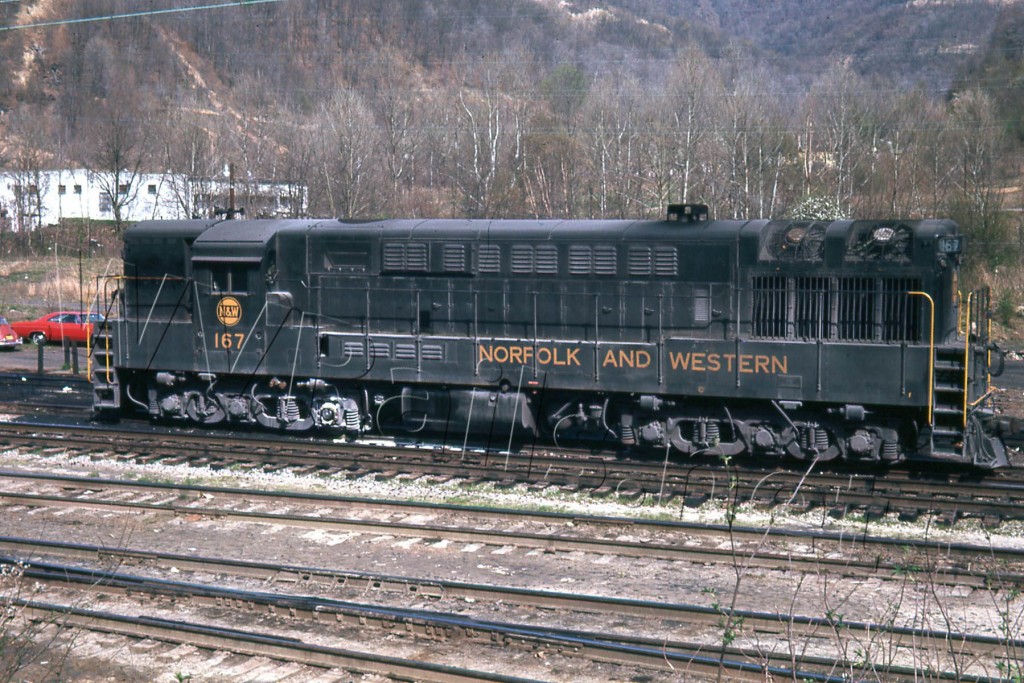 N&W Fairbanks-Morse Trainmaster Class H24-66 (former Virginian #67) sitting near the depot at Page, WV in April, 1968
The unincorporated town of Page, in Fayette County, West Virginia was deeply involved in the early beginnings of what eventually became the Virginian Railway. Many books have documented the history and operation of the VGN including the first book written by H.Reid several years after the VGN was merged into the Norfolk and Western on December 1, 1959. There are other books on the VGN, several by Lloyd Lewis and one by Kurt Reisweber entitled "Virginian Rails".  It chronicles the VGN just before and after the N&W acquisition and on to the merger of N&W and Southern Railway in 1982 that created what is today's Norfolk Southern Railway.
Page was also an important part of my family's life. My mother's father worked as a conductor between Page and Deepwater. I have one of his (there were many more I'm sure) conductor's log books that my mom's sister donated to me to which I am so grateful. Train consists are in my grandfather's writing and it documents the locomotives, cars and cabooses that were carried on his train. The particular book I have was in the period of July and August, 1927.
My grandfather died tragically in an accident in the yard at Page in May of 1933 after coming off one of his runs. That was about 15 years before I was born. My mother was 6 years old at the time of the accident. She was the third of four children. My grandfather was buried in Page Cemetery which was maintained by family members of the deceased. It is located on the hill above the Kincaid Cemetery on the east side of Loop Creek. My grandmother passed away about 20 years later and she is buried next to him along with other family members in the fenced in plot.
When I was a few years old I remember traveling to Page with my parents. We went there in the fall of each year after the leaves had all fallen from the trees to clean up our family plot. My mom's first cousin also lived in Page right along the main line of the VGN. She would most often have dinner for us after we finished with the work. Usually a train would pass by the house during our visit and I would dash to the front porch to see it go by. I vaguely remember the yellow and black diesel locomotives of the VGN. From then on I looked forward to the fall of each year including a trip to Page.
For reasons unknown to me, there was a period of several years that we did not go to Page.  The next time we went there I noticed that unlike before not all of the coal hoppers in the yard were lettered VGN. There were N&W cars mixed in. We found out from mom's cousin that the VGN had been taken over by the N&W. I was saddened to learn that this had happened without my knowing about it. I did read the newspapers some and watched the news but this sure caught me by surprise. From that point on I was determined to not let another railroad merger go by without knowing about it. To this day I have remained true to that pledge.
When I was old enough to drive on my own and with my parent's permission to borrow their car for the day, I traveled to Page several different times in the late 1960's to photograph around the area of Page. By this time all former VGN locomotives had been painted in N&W colors and even locomotives used strictly on the N&W before the merger began showing up, as noted on my Deepwater post. The only positive thing was that eight or nine years later, the right-of-way with its telephone lines and searchlight style signals along with dwarf signals still looked very Virginian, plus there were a number of VGN hoppers around that had not been re lettered by the N&W.
Time Freights 71 and 72 made their daily trips on what N&W called the Deepwater District (later the Princeton-Deepwater District) through Page. From what I recall, Time Freight 71 came through during the night. When these trains were cut off sometime during 1968, the frequency of trains on the old VGN dropped to the point that the line between Mullens and Deepwater handled two or maybe three trains a week. This part of the old VGN main including the branch to Oak Hill became more of a long switching move between the two points. The N&W was trying to either abandon the line or take it out of service from just north of Mullens to Deepwater.
The breakup of Conrail between NS and CSX in 1998 saved this part of the old VGN through Page. One part of Conrail that NS acquired was the New York Central line from Columbus, OH. This line followed the Kanawha River through West Virginia to Deepwater and Gauley Bridge to mines located beyond Gauley Bridge. To handle coal movements from Deepwater to Roanoke, the old VGN line was upgraded with welded rail, ties and ballast. Coal that would normally have gone to Columbus could now be handled on a more direct route.
I am thankful to have pictures around Page and I hope you will enjoy them. As the saying goes, "Virginian Railway – Gone but not forgotten."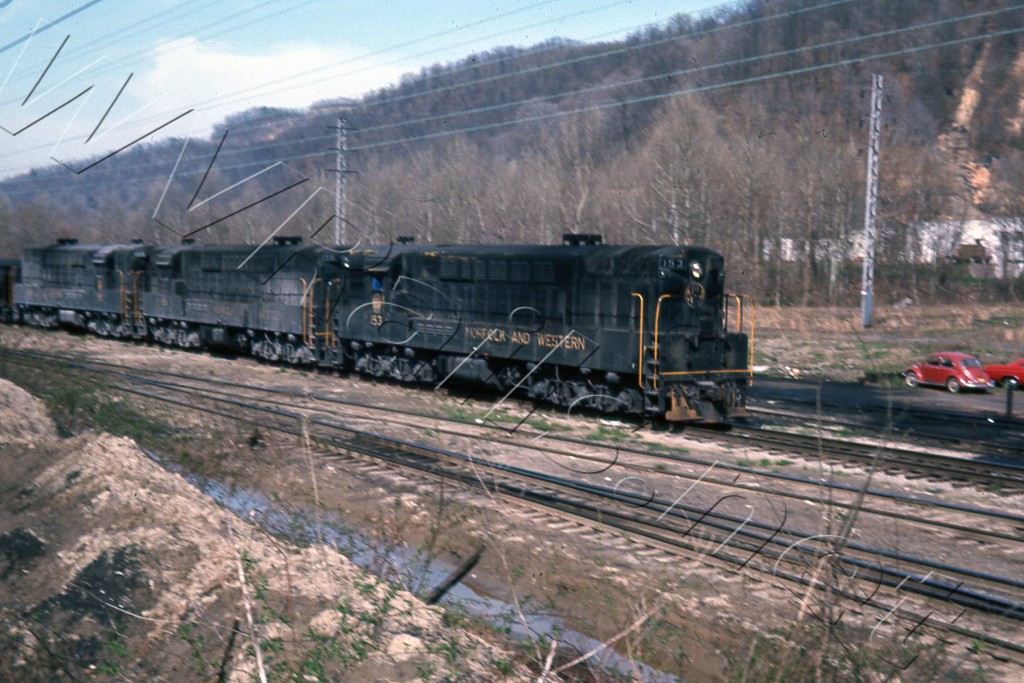 Eastbound train led by a trio of ex-VGN Fairbanks-Morse locomotives heading into Page in March of 1968. The lead unit is ex-VGN 53. N&W added  "1" ahead of all F-M units. It was quite a sight to see.




View looking west at the former VGN passenger station at Page taken in April, 1967. This  un-fortunately is the only picture I took of this structure.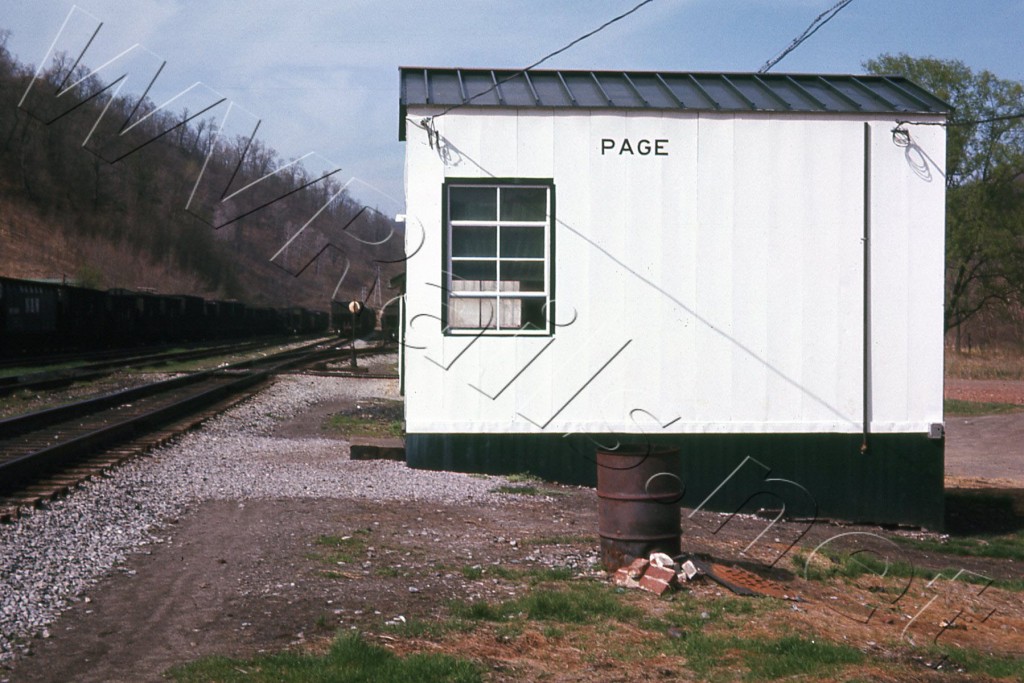 A year later in April, 1968 this metal building housing the yard office has replaced the old
depot which was torn down. The metal building met a similar fate some years later.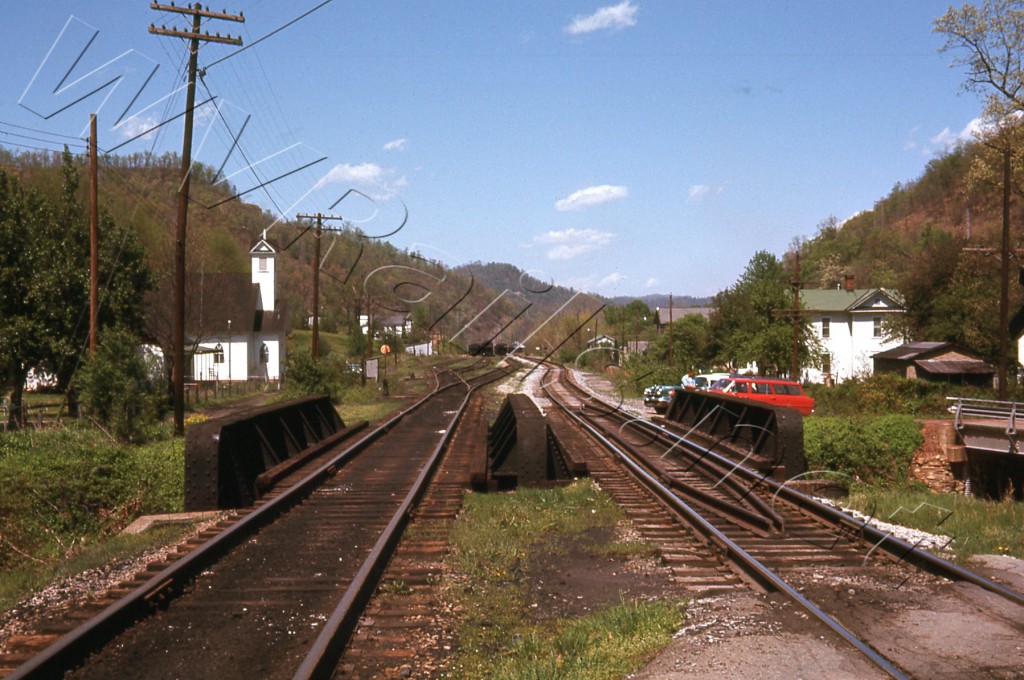 View of Page looking westbound toward Deepwater. My mom's cousin's house was on the right beyondthe big white structure. This photo is on display in the new Page Baptist Church lobby placed there by a childhood friend of my mother. The old church building was destroyed by fire sometime afterthis photo was made.
View of Kincaid from the same point as on the previous photo looking eastbound. Dwarf signals are in the background and if you look closely you can see the back of the searchlight signal on the left side of the track. Both photos were taken in April, 1967.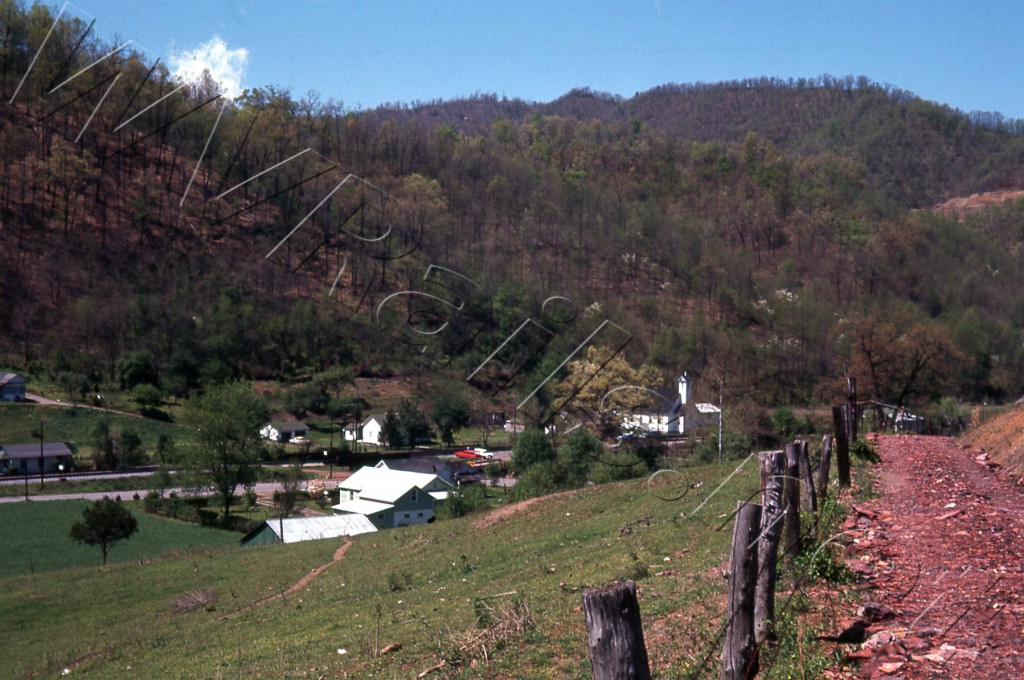 View of Page from Cemetery Road.
View of Kincaid from Cemetery Road. If you look closely you can make out what probably is Train 72 heading eastbound. The mountain in the background is Kingston Mountain.